My car is fixed! My car is fixed!  What does that mean?  Well, it means I've made 3 trips in the last two weeks down to the town where friends and family lives.  It also means I've been to the Trader Joe's in that town 3 times in the last two weeks!
I picked up a few things and wanted to get my thoughts down here on what I liked and didn't like.
The Good
(image via fatsecret.com)
Trader Joe's Chicken Fried Rice. This is in the freezer section.  You cook it by heating oil in a pan on the stove, dumping the rice in and covering it with a lid, stirring every so often for the short cooking time (5ish minutes). This comes with scrambled egg already in it but I added more (beat two eggs with seasoning in a bowl, push rice to the side in the pan, add a small amount of oil, dump beaten eggs into the oil, scramble and incorporate with the rice).  Contains red peppers (very small), corn, peas, edamame, scrambled egg and chicken.  The chicken is dark meat.  It comes with microwave directions but it is so easy to cook on the stove, don't bother.    This is good stuff!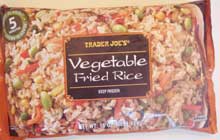 Trader Joe's Vegetable Fried Rice.  As with the chicken fried rice above, this is super easy to cook.  Contains red peppers (very small), corn, peas, edamame, and carrots.  I added scrambled egg to this one, as well.  There are tons of vegetables in this and it got rave reviews from all family members.  I plan on buying this one again and again!
Trader Joe's Cleanliness is Next to Godliness multi-purpose cleaner.  I usually use Honest Company's all purpose cleaner, but I decided to pick this up on one of my trips.  I've primarily used it in the kitchen and it works very well on grease and kitchen grime.  The smell isn't overpowering.  I may pick up another bottle for my pantry soon.
The Bad
Trader Joe's Dark Chocolate Speculoos Cookie Butter Cups.  Now, I love Reese's.  I love cookie butter.  This seemed like a match made in heaven.  Not so much.  The chocolate tastes waxy and cheap.  The cookie butter isn't creamy, it is crumbly, and tastes like a bunch if spices were added to it for this product.  I won't be buying these again.
I've got some other products in my cabinet to review as soon as I try them.  Can't wait!